Custom Cellar Inspiration
Vintage Cellars' specialty is custom wine cellar designs. All wine cellars have to have functionality, of course. Racking and a cooling system are the bones any wine cellar must be built on. But when building a custom wine cellar, most clients have something more in mind than just mere functionality. Beyond storing their wine in perfect conditions for aging, a wine cellar should have a special stamp that makes it unique, and says something about the collector.
But dreaming up a unique design can be easier said than done. How to put your own brand on your custom design? Sometimes, the best way to get inspired is to jump-start your imagination with some fabulous examples. Here are five of Vintage Cellars' favorite examples of unique wine cellar style:
Rolling library-style ladder:
This wine cellar at the Mariott Marina in San Diego makes use of vertical space and adds a bit of whimsy with a rolling, library-style ladder.
Glass doors: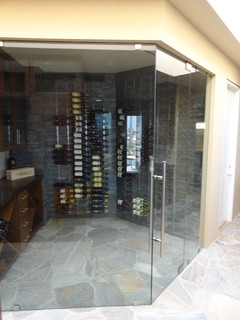 Glass doors modernize this wine cellar, and dramatically make the collection the focus.
Wine cellar dining room:
Forget tucking your collection away in a hidden corner. This Louisiana wine cellar makes double use of the cellar as a stunning tasting room.
A dramatic arch with wine storage:
This arch gives this 1,500-bottle San Diego cellar a focal point.
Ceiling wine racks: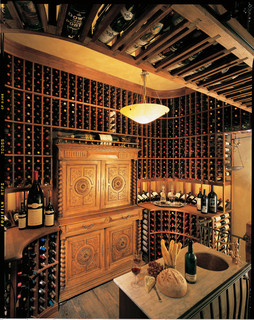 This wine cellar is already dramatic, with its tasting table and custom cabinetry...but when guests look up, the ingenious ceiling storage truly takes their breaths away.
Tell us about your dream wine cellar!