D050 Wine Guardian Ducted 5500 BTU Wine Cellar Cooling Unit - 60HZ
D050 Wine Guardian Ducted 5500 BTU Wine Cellar Cooling Unit - 60HZ
The Wine Guardian Ducted systems are some of the most versatile and efficient cooling systems you can buy. The Wine Guardian D050 wine cellar cooling system is a self-contained, ducted wine cellar cooling system for medium-sized residential and commercial applications. It can be ducted up to 25 feet from the cellar or installed in or above the wine cellar. The Wine Guardian D050 Ducted cooling unit is ideal for situations in which outside venting is necessary and can be installed in an attic. Humidification and heating options are available for difficult climates. The wine cellar cooling calculator can help determine if the D050 will be suitable for your wine cellar.
The D050 wine cooler is also suggested for smaller cellars containing large amounts of glass. Contractor installation is recommended. The maximum capacity is 6,320 BTU/h (1.85 Kilowatts). Larger and smaller units are also available to cool all sizes of cellars. The D050 system is available in a water-cooled configuration.
New Serving Temperature Option
Wine Guardian cooling units have a New Serving temperatures option that you can add to your purchase.
The Serving Temperature option allows the Wine Guardian unit to control an extended temperature range from 42°F to 64°F (5°C to 18°C). This is great for different applications, from single to multiple cabinet applications and small wine rooms where consumption temperature cooling is preferred. The user can also rotate the wine stock and change the set point in each season of the year, which makes it ideal for restaurants, clubs, wine bars, etc.
Specifications
Model: D050
Line Frequency: 60 Hz
Capacity: 2700 – 6320 BTU
Volume: 650 – 3000 ft³
Length: 41.5 in
Depth: 22.5 in
Height: 19 in
Weight: 125 lbs.
Electrical Requirements: 115/1/60
Features
Wine Guardian Offers Superior Performance
Wine Guardian is a world leader in wine preservation equipment. Wine Guardian, an Air Innovations company, builds wine cooling systems for both commercial and residential installation and can be trusted to cool any size wine cellar. Wine Guardian systems offer superior temperature and humidity control and will provide for the most stable conditions in your wine cellar for ideal wine aging. Wine Guardian is also a leader in building sophisticated, stylish systems that are simple to install and service.
Compare
Wine Guardian systems are built from the best components available on the market today. All Wine Guardian systems are UL certified for safety. They incorporate integrated cooling, heating, humidification, and air filtration while also making use of internal fail-safe systems. Wine Guardian systems can be installed in many configurations, depending on the specific system, so you are sure to find a Wine Guardian that is right for your cellar.
Black Finish

Most versatile cooling system

Reliable forced-air cooling

Remote Interface Controller

Cool, heat and humidity using only one controller.

Provides temperature control and both temperature and humidity readout.

Fahrenheit or Celsius temperature readout.

Controls our Wine Guardian humidifier (stand-alone or integrated) when connected to the system.

Temperature control range settable between 32°F and 98°F

Humidity control range settable between 5% RH and 95% RH

Provides adjustable high and low temperature and humidity alarm set points with control panel fault indication.

Has the ability to send a fault signal to remote alarm systems for high/low temperature, humidity, and refrigerant pressure conditions.

Can be located outside of the wine cellar and used as a monitor with the use of our optional remote temperature/humidity sensor.

Connects easily to our Wine Guardian units through a standard telephone cable connection.

Optional Remote Temperature/Humidity Sensor

Combination remote sensor for control of both temperature and humidity within the wine cellar space.

Connect up to three remote sensors and control to their average value.

Mount in the wine cellar space or within the ductwork.

Ideal when outside venting is necessary

Optional humidification, heating, and low ambient case heating available

Optional duct work and collars available

Allow 2-4 weeks for standard delivery

Call for expedited shipping
Here are some tips for selecting the right Wine Guardian cooling system for your wine cellar.
Remote Sensor
Heat rises. That's why it's warmer upstairs than downstairs in many homes. The same thing can happen in your wine cellar, with the top of the wine cellar several degrees warmer than the floor. With Wine Guardian, several temperature/humidity sensors can be connected to one system, averaging their readings for more accurate wine cellar temperature control.
Wine Guardian sensors measure both wine cellar temperature and humidity, allowing the equipment to adjust both temperature and humidity accurately and simultaneously. They measure the conditions in the air, not in the bottle, allowing the system to spring into action before there is any change in the temperature of the wine itself.
Low Ambient
Factory-mounted control system to protect the refrigeration system when exposed to temperatures below 40°F (5°F"ƒ).
Upgrades
Wine Guardian 4-Year Extended Compressor Warranty
Wine Guardian 4-Year Extended Warranty on compressor only. The warranty covers the cost of a new replacement compressor should the original compressor be deemed defective anytime during the forty-five-month extension. All shipping and labor charges for the replacement are not covered under this warranty. The effective date for any extended warranty is the original invoice date for the Wine Guardian unit, not the purchase date of the extended warranty.
Economical and practical, choose to extend the manufacturer's compressor warranty for forty-five months and feel safe that your Wine Guardian cooling unit is protected for years to come.
Electric Heat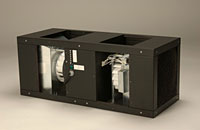 Integral electric heater coil and controls
Heater turns on to protect cellar from low-temperature condition
Ideal for areas where ambient temperatures fall below 50°F
In-line in Humidifier
Wine Guardian Humidifiers increase humidity levels within residential or commercial wine cellars. Prevents mold and degradation of the labels and glue if humidity is too high. Prevents corks from drying out and possible degradation of wine if the humidity is too low.
Integrated humidifier for ductable Wine Guardian systems.
Drip pad-type humidification with removable, cleanable pad
Humidifier can be mounted as a freestanding unit within the wine cellar
Lightweight, corrosion-resistant, all aluminum outer body
Integral fan for air circulation
Removable supply grille and drip pad access cover for easy service
Completely self-contained design with cellar-mounted humidistat
Factory tested prior to shipment
Freestanding option plugs into any 115-volt electrical outlet
24/7 factory service hotline support
Wall Mounted Humidifier
Wine Guardian optional humidifiers can be ordered either as free-standing or integrated units, to best suit application needs/preferences. Both models are easy to install and operate. They add moisture to the cellar as required and sensed by the Wine Guardian's humidistat.
The free-standing version can be used with any wine cellar air conditioning system, while the integrated version must be mounted to a Wine Guardian system.
Drip pad-type humidification with removable, cleanable pad
Humidifier can be mounted as a freestanding unit within the wine cellar
Lightweight, corrosion-resistant, all aluminum outer body
Integral fan for air circulation
Removable supply grille and drip pad access cover for easy service
Completely self-contained design with cellar-mounted humidistat
Factory tested prior to shipment
Freestanding option plugs into any 115 volt electrical outlet
24/7 factory service hotline support
Collars and 8" Ducting Kit
Supply and return duct collars
Molded plastic design provide lightweight, rigid connections to ductwork
Available for supply and return openings with flexibility for any inlet/outlet location
Designed to be used with Wine Guardian grilles for connections at the wine cellar
Kits include: 2 duct collars (one supply, one return; 25 feet flexible insulated ductwork; 4 tie-wraps and fasteners)
Heavy duty, painted steel mounting brackets
For wall-mount applications
1/2-ton to 2-ton capacity
Low Ambient Temperature Compressor Protection
Low ambient protection is required when the air across the Wine Guardian condenser will be below 40F. Remember, this refers not only to the temperature where the Wine Guardian unit is located but also to the conditions of the outdoor air should you need to duct air into the condenser from outside of the residence or building. Many areas across the country have sustained temperatures below 40°F during winter months and adding this option will protect the compressor from temperatures that are too cold for its proper operation.
The two main components of Wine Guardian's low ambient protection option are a "crankcase heater," which is a heater located underneath the compressor to keep its oil warm, and a "fan cycling switch." The fan cycling switch turns the condenser fan on and off as needed to keep the refrigerant pressures within preset levels. (When the condenser coil is subjected to cold air it doesn't always need air flow across itself to provide sufficient cooling of the refrigerant. The fan cycling switch provides this airflow control.) The low ambient protection option must be installed at the factory and must be specified at time of order.
High Ambient Temperature Compressor Protection
Wine Guardian also offers a high ambient option specifically designed and manufactured for applications where the Wine Guardian unit will be exposed to extremely warm air, such as attic spaces, crawl spaces or covered outdoor applications. High Ambient models should also be considered when outdoor air is required to be ducted to the condenser section and the temperature will be above 95°F during parts of the year. High ambient units must not be exposed to temperatures above 125°F - 30 degrees higher than standard Wine Guardian systems, which have a maximum temperature of 95°F. The high ambient option includes special coils, special condenser fan and refrigeration controls.
Duct Collar
Supply and return duct collars
Molded plastic design provide lightweight, rigid connections to ductwork
Designed to be used with Wine Guardian grilles for connections at the wine cellar
View the complete Wine Guardian Warranty
Additional Info
What's included in my shipment?
Wine Guardian Cooling Unit
Built In Electric Heater(Optional)
Optional In-Line in Humidifier
Wall Mounted Humidifier(Optional)
Supply-Air Kits(Optional)
Return-Air Kits(Optional)
Return Duct Collars(1 included)
Supply Duct Collars(1 included)
Low Ambient Temperature Compressor Protection(Optional)
High Ambient Temperature Compressor Protection(Optional)
Extended Warranty(Optional)
Installation Instructions
Warranty
Warranty
Wine Guardian Ducted, Split, and Humidifier Warranty
GENERAL
Wine Guardian warrants, to the original buyer, its goods and all parts thereof to be free from defects in material and workmanship for a period of two (2) years from the date of invoicing assuming NORMAL USE AND SERVICE.
LIABILITY
Wine Guardian's liability shall be limited to the repair or replacement (at its option) of any part, which, at our sole discretion, is determined to be defective. The purchaser shall pay all transportation costs. Additionally, if a malfunction occurs within the first year from the date of invoice, Wine Guardian will reimburse the reasonable cost of labor required for the repair or replacement provided authorization is obtained from one of our authorized representatives prior to incurring any labor charges.
LIMITATIONS OF LIABILITY
THESE WARRANTIES ARE MADE IN LIEU OFF ALL OTHER WARRANTIES EXPRESSED OR IMPLIED, INCLUDING ANY IMPLIED WARRANTY OF MERCHANTABILITY OR FITNESS FOR A PARTICULAR PURPOSE AND IN LIEU OF ANY OTHER OBLIGATION OR LIABILITY, INCLUDING LIABILITY FOR ANY INCIDENTAL OR CONSQUENTIAL DAMAGES. Wine Guardian will not be responsible for any costs or liabilities whatsoever resulting from improper installation or service of its equipment. In the event that Wine Guardian or its distributors are found liable for damage based on any defect or nonconformity in the products, their total liability for each defective product shall not exceed the purchase price of such defective products. No person or representative is authorized to change these warranties or assume any other obligations or liabilities for Wine Guardian in connection with the sale of its systems.
INDEMNIFICATION
Purchaser agrees to indemnify, hold harmless and defend Seller and its officers, directors, agents, and employees from and against any and all claims, liabilities, costs, and expenses arising out of or related to Purchaser's use of the goods, or in any way involving injury to person or property or accident occasioned by the goods sold by Wine Guardian to Purchaser.
FOREIGN GOVERNMENT AND INDIAN NATIONS
If Purchaser is a foreign government or an Indian nation, Purchaser hereby expressly waives its defense of sovereign immunity in the event of a dispute between Purchaser and Wine Guardian regarding this invoice and Purchaser expressly acquiesces to the jurisdiction of the federal and state courts of the United States.
SEVERABILITY
If one or more of the provisions contained in this contract shall for any reason be held to be invalid, illegal, or unenforceable in any respect, such invalidity, illegality, or unenforceability shall not affect any provision of this contract, but this contract shall be construed as if such invalid, illegal or unenforceable provision had never been contained.
ADDITIONAL REQUIREMENTS
If a defect covered by the Warranty occurs, contact Wine Guardian for authorization to proceed with corrective action. Do not return any parts or incur any charges for which you expect to be reimbursed under this Warranty without receiving this authorization. If parts are replaced under this Warranty, the defective parts must be returned prepaid within 30 days. This warranty shall be null and void in its entirety if the Serial Number on the air conditioner or compressor is altered, removed, or defaced.
View the complete Wine Guardian Warranty